Are you recently finished with Breaking Bad* and looking for a similar show to keep you going? Done with Mad Men and ready to move on to another moody drama? Well, do something on your own man, this post has nothing to do with you.
Girl Meets World. It's a thing.
I'll admit when I first heard about Girl Meets World I was equal parts "yisssss" and "no, no, please don't ruin my childhood."
Boy Meets World was one of my all time favorite shows growing up. It was silly, it was cheesy, it had the lessons and the jokes and the character with impossible hair. I loved that show.
So naturally I was prepared to hate the reincarnation.
Girl Meets World is the story of Riley, the daughter of Cory and Topanga,** and her best friend, Maya, a troubled young girl from a difficult family situation. Basically, Cory and Shawn in female form. The show chronicles their misadventures in New York City, where Cory, as their homeroom teacher, gives them unending life advice. It's annoyingly heart warming.
What strikes me about this show is the development of strong, female characters, something rarely found genuinely on television. It makes Girl Meets World the kind of show that, while definitely too young for my tastes, is perfect for a younger generation of girls learning who they are.
The Show's Pros: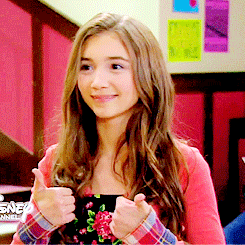 Rowan Blanchard is adorable.
Riley is awkward and impossibly optimistic. She wants to fix everything for everyone and believes in miracles. She's a refreshing character in a world of tiny cynics. And Rowan is perfect for the part. She's a strong voice for a generation with a bold eyebrow.
Cory's Still a Lovable Nerd
The only thing that really changed about Cory is that he became a teacher. He's still the same lovable young, old man.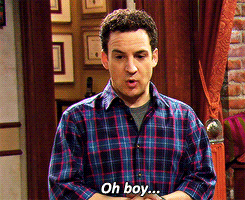 Female Characters
This show has an almost equal cast of male and female leads. No one is a perfect character for sure, but the female characters hold their own. It's not just a couple of women who kick ass with a metric ass-ton of dudes around like most shows, it's an equal number of pretty normal individuals.
The Things I'm Not in Love With
Pre Teens in Heels
Call me old fashioned, but remember when shows had pre-teen characters and didn't put a ton of makeup on them or put them in heels? Like in…Boy Meets World…The wardrobe on the show is adorable but a little grown up.
Oversimplified Issues
Maybe I'm remembering incorrectly but I seem to remember Boy Meets World dealing with difficult issues a bit better. They dealt with Shawn's family situation over several episodes, always giving him a safe place to be but continuing trouble with his identity.
Maya's situation is similar but it is often brushed aside by the end of an episode. There were many lessons in Boy Meets World that simply didn't wrap up entirely, the goal was "good enough" not "perfect." Girl Meets World hasn't dropped into this rhythm yet.
If you haven't seen the show yet, it's worth a watch. Season one is on Netflix if you want to check it out. Let me know what you think!
Best of luck!
*Yeah I know it's been over for years but I just finished it ok?
**I 100% had to look up how Cory spells his name but knew Topanga's by heart…